Dr. Michael DeMaria's life turned inside out and upside down after the first decade of his professional life when he underwent a life transforming "lament in the wild" (vision fast) without food or water, guided by a native teacher. He went there suffering compassion fatigue and burnout from having worked for many years with severe cases of child abuse as a child protection team psychologist. The experience provided a profound healing, a course correction and gave him a vision for his life. Ever since his mission has been to help guide others to what he calls, "The ocean of peace that lies within." He does this through his work as a musician, artist, poet, filmmaker and teacher.
His healing music is heard over a million times a week across the world, garnering him four Grammy® nominations, 8 ZMR awards, 6 #1 albums, a Native American Music Award and appearing on the Grammy® Winning album, All About Bullies Big and Small. He is also a Sounds True recording artist with his music being featured on projects with Eckhart Tolle, Mark Nepo and Noah Levine. He is the author of 4 books, 3 of which were bestsellers, and is the creator and author of the Peace Within Process for Integrative Wellness. His newest book of poetry When All is Lost: Finding Heart in The Dark was released in 2020 and Souling: Birthing and Tending a Soulful Life is due out in 2022.
Healing and Creative Arts Studio
ONTOS is the Greek word for being. It is the root word of ontology, the area of philosophy that I fell in love with as a teenager. It asks the question of what is reality? What does it mean 'to be'? Why is there something instead of nothing? What is, this isness? These questions stay with me throughout the day, and it is the central focus of my life - connecting to, exploring, and flowing with 'being'....and it also helps us explore the opposite of being, non-being...and the place where these opposites dance together, which for me is what I understand as soul. Our individual soul and the soul of the world, is a dance of the seen and unseen, sound and silence, light and dark, night and day, birth and death, male and female. This is also what I call ontosynthesis. Where photosynthesis turns light into life, ontosynthesis turns life into love.
ONTOS is also an acronym that means the Ongoing, Numinous Tracking Of Soul. It is a never ending unfolding, exploration that I find most fulfilled in the creative process and immersion in nature and the eternal now. We are each a node of awareness in the infinite field of being, a note in the cosmic chord that is always vibrating within and without and is always emerging from non-being and flowing back and forth between the manifest and non-manifest.
ONTOS is also home to Ontos Music, Ontos World Press and Ontos Films.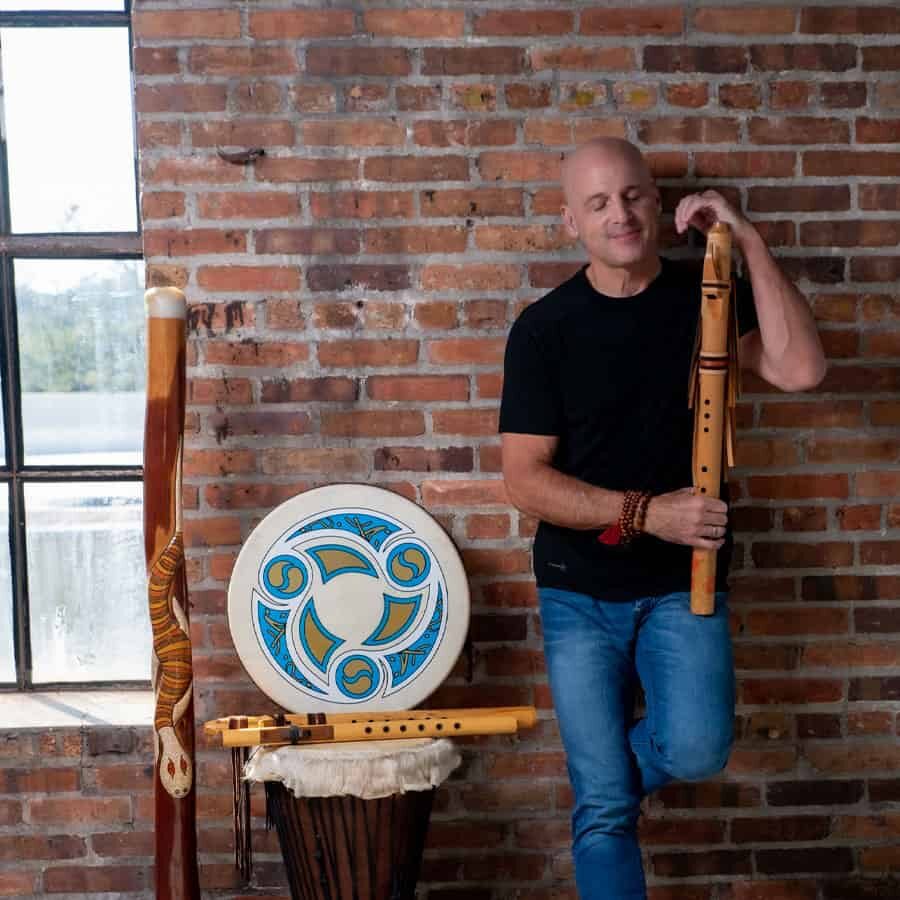 Music heals. It is the language of the soul. Music has been my dearest companion and deepest source of healing since using it as my own source of healing from surgery trauma at the age of seven. My sound poems and tone prayers are heard over a million times a week around the world. Music reminds us who we are and if you listen deeply enough it will help you experience reality as the ever present, fluid unfolding of infinity in the eternal now.
Michael's love of writing began in his teens when he found personal healing in journaling and writing poetry. He later academically explored this theme of creativity fostering the healing process as he went on to nationally and internationally publish and present numerous papers on the role creativity and spirituality play in the healing process. He is the author of Horns and Halos (1992), Ever Flowing On (2001), Moments (2008) Peace Within (2015), When All Is Lost (2020) and the upcoming Souling (due out 2022).
Explore Michael's many videos on his popular YouTube channel that is home to the 7x7 Meditation (7minutes a day for 7 days), Mindful Moments with Michael (short 2 minute Mindfulness tips), many interviews and more free content and all of his music.
Welcome to Musitations™ – Sound Healing and Sound Wisdom for a world in need. On Musitations™ we explore all things musical, meditative and creative for healing, transforming and awakening the relationship between nature, culture and the soul. I'm Michael Brant DeMaria and I'm your host and guide on this journey on the edge of a new Millennium. I bring my 30+ years of experience as an integrative, holistic wellness guide, bestselling author, meditation/yoga/mindfulness teacher and a 4-time Grammy® nominated musician. Join me on this adventure of awakening the soul!
Share Michael with others.